Atoll was the first LTE network planning software on the market. Today, Atoll offers a powerful platform for operators to plan and optimise LTE-A Pro and 5G NR networks.
Atoll supports integrated network planning for multi-RAT networks. It features a multi-technology network database, that allows a complete integration of combined 4G/5G network planning.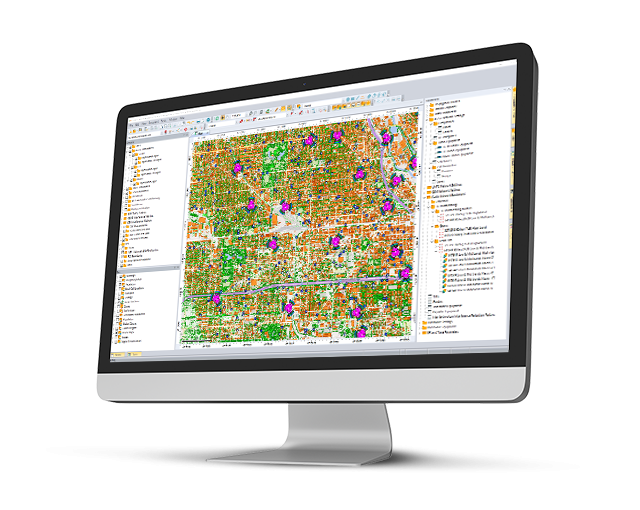 LTE Network Modelling
Support for all 4G LTE frequency bands and carrier configurations
Comprehensive support for FD- and TD-LTE
Support for multi-layer network deployment scenarios
Support for intra- and inter-band carrier aggregation
Support for coordinated multipoint (CoMP) transmission and reception
Support for donor and relay nodes
Support for eICIC and ICIC
Advanced bearer and service modelling
Massive MIMO: SU-MIMO, MU-MIMO, and transmit/receive diversity
3D beamforming
LTE Traffic Modelling
Modelling of voice and data services with different QCIs
Modelling of UE categories, user equipment, user profiles, and traffic environments
Multi-service raster and vector traffic demand maps from multiple sources including traffic data from live network measurements
Fixed subscriber traffic modelling
LTE Simulation and Analysis
Atoll advanced LTE Monte Carlo simulator including RRM power control, interference control, inter-cell coordination, aggregation, and backhaul (S1) capacity constraints allows for a detailed modelling of LTE networks.
Generation of prediction plots, based on simulation results or on cell load figures from the live network including :
Cell and network coverage analysis
Downlink and uplink interference analysis
Downlink and uplink service areas
Effective service areas
Downlink and uplink throughputs
Downlink and uplink quality indicator analyses
PCI, PSS ID, SSS ID, and PRACH RSI collisions
Coverage plots combining predicted and measured values from live network KPIs and UE/cell/MDT traces.
Neighbour Planning
Manual and automatic multi-frequency and multi-layer neighbour planning
Hybrid neighbour allocation process based on predictions and live network data
Interference Matrices
Prediction-based interference matrices
Open format allowing import of measurement-based interference matrices and editing interference matrices using 3rd party applications
Multi-RAT Network Planning
Integrated planning and optimisation for 4G LTE with 5G NR, 4G NB-IoT, 3G UMTS, and 2G GSM
Unified network databases with site and antenna sharing
Unified multi-service traffic model
Combined Monte Carlo simulator
Simultaneous display and analysis of network layers
Inter-technology handover modelling
Inter-technology interference analysis
Atoll LTE Automatic Cell and Frequency Planning
Atoll includes automatic functions for LTE planning that allow site selection definition of transmitter parameters during the initial planning phase, as well as further parameter optimisation within live networks.
Automatic Frequency Planning - AFP (option)
User-definable constraints and flexible cost function
Hybrid allocation process based on predictions and live network data (neighbours, handover KPIs, interference matrices, etc.)
Allocation of frequency channels and fractional frequency planning (FFP)
Automatic PCI planning considering PSS, SSS, RS, UL DMRS, and PCFICH collisions
Automatic PRACH RSI planning
 Further information about Automatic Frequency Planning (AFP) Module
Automatic Cell Planning - ACP (option)
Automatic optimisation of LTE network coverage and capacity
Site selection and activation for greenfield and densification scenarios
Identification of critical network zones and high-traffic areas using live network KPIs and UE/cell/MDT traces
Advanced radio coverage, quality, as well as capacity and throughput objectives
Antenna selection and parameter optimisation (height, azimuth & tilt)
Further information about Automatic Cell Planning (ACP) Module 
Automatic Site Positioning - ASP (option)
Automatic creation of new site locations according to surface-wise, traffic-oriented and population-based coverage objectives
Site deployment in multiple zones (urban, suburban, rural, etc.), along roads and railways
Intelligent implementation plan with the selection of the best sites to deploy
Further information about Automatic Site Positioning (ASP) Module