Planning the backhaul of a mobile network is a key activity for wireless operators, as the data volume carried out by 4G and 5G mobile networks is growing at a fast pace.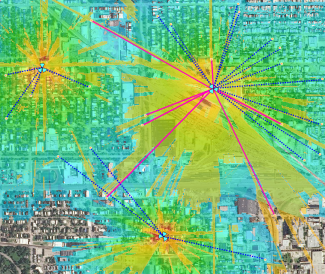 Backhaul network design and planning
The backhaul of mobile networks can include microwave links and fixed lines such as fibre optics.
A microwave link is a communications system that uses a beam of radio waves in the microwave frequency range to transmit data between two locations, which can be from just a few feet or meters to several miles or kilometres apart Microwave links are used extensively in 4G LTE and 5G backhaul networks in areas where high performance, flexibility, speed of deployment and low operating costs are required. Atoll Microwave provides mobile operators with a comprehensive microwave link planning toolset to for microwave link planning.
Based on fibre, fixed-line backhaul involves deploying fibre infrastructure or leasing fibre capacity from a third party that already owns fibre infrastructure. Fibre provides maximum capacity as required in areas with high-traffic density such as metropolitan areas, and for long-distance transmission across the mobile backhaul network.
As 5G makes mobile network more complex, planning the backhaul of mobile networks require specific design strategies to ensure appropriate capacity is available at backhaul level.
Backhaul planning for 5G mobile network
How people connect in urban areas will become increasingly important as mobile network operators densify networks for 5G. Easy to install, low-cost and high performing solutions such as small cells will be at the forefront of this densification
Planning 5G network backhaul in urban areas is a challenging task given the large number of small cells that must be connected. As there are a number of planning options and technologies for planning small cell backhaul networks, advanced planning tools such as Atoll Microwave and its Backhaul module can help operators find the best way to connect the base station nodes and select the technology to use on each link.
Atoll Microwave is a comprehensive mobile backhaul network planning and optimisation software.
Atoll Microwave provides accurate modelling and analyses of point-to-point and point-to-multipoint links, in LOS and nLOS/NLOS (non-line-of-sight/near-line-of-sight) configurations. It provides mobile operators with a comprehensive software solution for mobile network backhaul planning.
Atoll supports TDM, packet, as well as hybrid microwave and other, wired and wireless, links as part of a heterogeneous backhaul network. Atoll Microwave can share the same database with Atoll RAN (Radio Access Network) planning and optimisation modules dedicated to mobile network design, allowing a smooth collaborative workflow for RAN and Backhaul planning teams.
Further information about Backhaul Planning: